March Hike:
INAUGURAL HIKE A SUCCESS
March 21, 2004
Cataract Gulch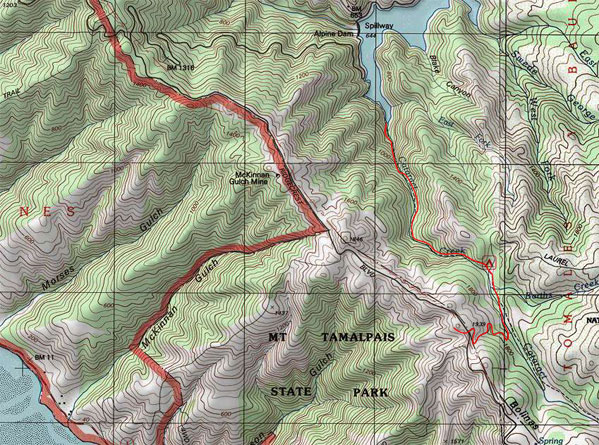 Hikers: Gary, Susan, Toby, Zach, Jane, Joe, Iris, Greg, Mirabai, Pam, and Gabe.
Spring came early this year, and the splendid weather inspired a trip to Cataract Gulch, a 2.5 mile hike up a steep ravine, next to Cataract Creek, with its continuously cascading waterfalls.
Eleven hikers turned out for this anuagural hike of 2004. The hikers met in front of the movie theater in Fairfax, and carpooled to the trailhead at Alpine Lake dam. Although they set off with temaperatures in 70s under a bright sunny sky, they immediately entered the cool understory of the fir and redwood forest that fills the canyon. The unusually warm weather had made the trail dry, but there was still plenty of water flowing over the falls.
The hikers took a brief break at Laurel Dell, and then continued on the service road to Bolinas Ridge Road and the sun-drenched bluff looking out over - a sea of cloud tops. Over lunch and conversation, the hikers watched the clouds slowly melt away to eventually reveal Stinson Beach, Bolinas Lagoon, Ducksbury Reef and the Pacific Ocean far below.
---