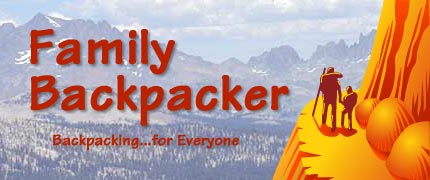 It isn't easy, and requires considerable forethought, but taking the baby on a backpack trip can be rewarding for everyone, including baby. Essentially, the baby is just another - rather delicate - item for you to carry. And if they're still breastfeeding, you don't even have to bring any extra food. Just keep Mom nearby.

With all the kids you see around, you'd think there would be a wider selection of child carrier packs. The best are made by Kelty, and range in price from about $80 to $250. The low end models feature a comfortable place for the baby to ride, a small stuff pouch and a retractable A-frame, that sits up on the ground. The more expensive models offer increased cargo capacity, better suspension systems, and such niceties as sun hoods and detachable pockets.
We found that a medium-priced carrier with a good suspension system worked well with our own stuff sacks lashed to the sides with small bungee cords.

If you have acess to a good outdoor store, it's best to try any pack on before deciding. Excellent selections and prices are available online from REI and Campmor.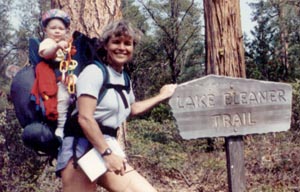 Lots more text and pictures to come.