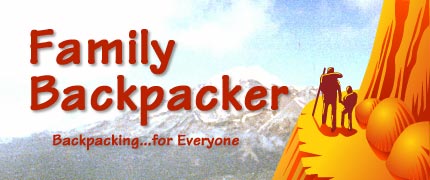 Soon, your child enters the stage where they're too big to carry very far, but to small to walk vary far. A lot of people take a big break from packing at this time. But the natural exuberance of this age virtaully requires the tempering influence of extended visits to nature.

Plan shorter hikes. The child is generally willing to walk for short distances, but they may tire quickly. Search for camping spots that are no further than a mile or two from the trailhead.

Short hike spots are likely to be well used. Go in mid-week to cut down on traffic.

Consider hiring an outfitter. Llama packers can make a big difference. They won't carry the kid, but they'll carry everything else - and a lot of it. A llama outfitter will generally plan the menu, do the cooking, and bring along a lot of gourmet items impossible for a backpacker. And since the parents can trade off carrying only the child, you can really get deep into the woods.
Lots more text and pictures to come.